Previous Files
Meeting Leroy
Escape From Plenty
Bucket Lists
David Board Letter
Remembering Orion
Flying With Dead
Recovery Squadron
Crown Royal Special
Coasting Thru Winter
Ferrying Baron - 4
Ferrying Baron - 3
Ferrying Baron - 2
Ferrying Baron - 1
Harley Davidson
David Board Letter
Flying the Cassutt - 2
Flying the Casutt
David Board Letter
Darkness - 4
Darkness - 3
Darkness - 2
Darkness
David Board Letter
David Board Letter
Working For Myself
The Abandoned Field
David Board Letter
Growing Up in WV
David Board Letter
David Board Letter
Puerto Rico - 2
Puerto Rico
The Aztec
1939 Piper J-3
Luscombe 8A,
Planning Routine Flight
Rain on the Roof
Buying the History
Most Recent
After The Fall

February 21, 2013
Continued from Part One


And so it was, in the aftermath of our rascally accountant's financial exsanguination of our flourishing FBO, I found myself without the company that I had nursed from a one airplane flight school to a large FBO. Even worse than that, I was without a job. My little world of all things aeronautical had come to an end in the late winter of 1976 and I sadly watched all the effort of the last eight years come crashing down on our heads.

The banks came after us with a vengeance. We were leveraged to the hilt and everything was pledged, so the house, the bank account and the cars disappeared along with the airplanes. The hangar was padlocked.

It was a strange feeling at this juncture of my life, to be able to pick up and carry nearly everything that I still owned. What, I wondered, would to happen to me?

Fate always knows our future and will sometimes lay new paths for us, even when we are too blinded by the present to see them. The autumn before, while at least on the surface, things still appeared normal at the airport, one of Cessna's finest, the District Manager for our area, came by to call on us. Although we were a Piper dealer, he hoped, as all good DM's do, to convert us to the Cessna brand. Had he known the financial struggle that was going on inside the big green hangar I am sure he would have crossed us off his list and even avoided over flight of our airport, but at this point the entire struggle was invisible to everyone but our creditors.

After eating lunch on the Cessna tab and hearing his pitch about becoming a Cessna dealer, the DM and I were sitting in the airport restaurant, nursing our coffee and chatting. I looked out through the big windows of the terminal, toward the ramp and the shiny new Cessna demonstrator that sat sparkling in the slanting fall sunshine. Suddenly I had a thought.

After several months of increasingly desperate and ever more futile efforts to get our cash flow under control, I was beginning to see the financial writing on the wall, although I hadn't yet realized whose handwriting it was. So, I asked him, how would a person go about getting such a fine job as yours? He gave me a funny look, but wrote a name and a phone number on a card and gave it to me.

Several months later, now homeless, carless, jobless and somewhat hopeless, I remembered the card and searched through my few remaining belongings until I found it. I called the number in Wichita and asked for the name written on the card and was soon speaking with a pleasant sounding man in Human Resources. Would they have a place for an aviator with good people skills and an interesting if unusual background in aviation, I asked? They might, he said, and he would send me an application.

I was staying with a friend who lived behind the National Guard Armory next to the airport. His home was a house trailer so old that it had a pull handle on the door instead of a knob, prompting our nickname of 'The Refrigerator' for it. It was by now late winter, a dreary time in West Virginia, when even the view from the mansions of the Coal Baron's that dotted the hills surrounding the town was uninspiring. The trees, bare and gray swayed in a cold north wind and dead grass covered fields that that looked as if they would never be green again.

The view from The Refrigerator was way worse than that. It was beyond bleak, and as I stared through the grimy windows into the half melted slush in the Armory parking lot I pondered my fall from grace, waited on the application from Cessna and pouted.

The application arrived one morning as I was watching freezing rain coat nearby cars while a stray cat inventoried the contents of an overflowing garbage can. I completed the form and got it back in the mail the same day. Flying jobs in West Virginia were scarce at this time, and I had a feeling that the Cessna job was my best shot at getting back in the air any time soon.

A week later I got the call from Wichita I had been hoping for. They did have an opening for a multi engine demonstration pilot and since I had lots of twin time they would like to talk with me about the position. Could I, they asked, be in Pittsburgh the following Tuesday to meet with Jim Creagh, the East Coast Zone Manager? I quickly checked my calendar and confirmed the date to be open, along with all the days before and all the days after, and told them I would be there.

On the appointed day I borrowed an airplane from a friend, flew to Pittsburgh and landed at Allegheny Airport where I was scheduled to meet Jim at the Holiday Inn across the street from the airport.

As I pulled onto the transient ramp an airplane caught my eye. Parked there, glowing in the weak winter light and making all the other aircraft nearby look absolutely dowdy, was a spanking new 421C. This was the latest version of the Golden Eagle and it was new this year. I hadn't seen one yet except in photos, but it was easily identified by the new wet wing which had shed the iconic tip tanks, and the new hydraulic landing gear. For the first time it sunk in, that if I got this job I would be flying airplanes just like the one that was presently dominating the ramp in front of me. Suddenly I went from just needing this job, to also really, really wanting it. I crossed the street to the Holiday Inn and my meeting.

If we are very lucky, we meet perhaps a dozen times in our lives, people who will impact us in a significant way and become and remain one of our inner circle of friends. Fate had decreed that Jim Creagh would fill such a role in my life, but on that cold February day I had no way of knowing this. At that moment my only thought was to make a good impression on this Cessna VIP and nail down the job that I so desperately needed to turn my life around.

Jim stood a lanky six foot two of Kansas affability and meeting him was like running into someone you already knew. His necktie was clip on, but his interest in me was real as he inquired about my background and I told him the story of Leroy and how I came to be looking for a job. He questioned me about my flying experience and I showed him my logbook and we talked about flying. He told me a bit about the job that he needed filled and about why the zones needed Multi Engine Specialists.

In the mid seventies Cessna was riding a huge wave of success, along with the rest of the aviation industry. Airplanes were being gobbled up by retail buyers who had what was referred to in the sales school I later attended in Wichita, ''real or imagined needs" for them, and the Investment Tax Credit helped power the flocks of new aircraft that were pouring out of Wichita like popcorn out of a popper.

Cessna's distribution system involved seven zones or distribution points across the country to manage the sales between the factory and the dealers. Each zone had five to ten district managers, who coordinated business between the Cessna dealerships, the zones and ultimately the factory.

On Cessna's premise that it's easier to teach a salesman to fly than it is to teach a pilot to sell, most of the DM's were very low time pilots. In a few cases, student pilots were hired with the proviso that the newly minted District Managers get their Private License straight away, using shiny new Cessna 172s to accomplish this. This worked out well for the single engine line, but the low time pilots obviously weren't ready to tool around in any examples of the extensive twin engine line that Cessna was producing. Twins, from the 337 Skymaster to the 421 Golden Eagle and all the models in between, needed to be safely flown and demonstrated. The Cessna Multi Engine Specialists were the answer to this and they moved the twins around the country and made them strut their stuff for the prospects that the dealers and the DM's had identified.

After a lunch and a two hour interview with Jim I found out to my complete delight that I would begin working as a Multi Engine Specialist for the East Coast Multi Engine Zone, located in Morristown, NJ. I had gotten the job, and I would be based in Latrobe, PA, where one of the Cessna Multi Engine dealers was located. I would cover the southern half of the zone, which included everything from the Mason Dixon Line north to New York City and as far west as the Ohio border. I would be issued a spanking new Cessna 310R that would serve as my personal transportation around the zone. At this point I tried not to be obvious as I pinched myself to make sure I wasn't dreaming, but I couldn't disguise my wall to wall grin.

The next week found me in Morristown, getting orientated to the nuts and bolts of my new job and learning about Cessna, the Company. I found that the Cessna Multi Engine Dealers functioned as a sort of sub distributorship for the Single Engine Dealers in the Zone. In the North East Zone where I would be based there were four ME Dealers and perhaps sixty or eighty SE Dealers and Cessna Pilot Centers. When a dealer or CPC acquired a prospect for one of the twins they would notify their District Manager, who would then contact either me or the other ME Specialist, depending on the area of the zone the dealer was in, and give us information on the prospect and identify the type of twin he was interested in. We would then jump into our 310, fly to the zone in Morristown and pick up the aircraft for the demo.

When I talk about this era in aviation to people who are recent to the industry and have known only the pitiful numbers of general aviation aircraft now being produced, I have no doubt they think I'm lying my face off, but here I go.

The Cessna Zone Offices of the seventies were a veritable sea of aircraft. Our stock of new airplanes covered one whole section of the Morristown airport and we not only had an example of every twin Cessna was producing, but we had several color and equipment choices of each model. Interested in a 421? We usually had a half dozen to choose from. There were dozens of 414's, 402's, 340's, 310's, 337's and P337's tied down on the ramp and from this herd we would choose the aircraft that most nearly matched the described interest of the prospect. To give you an idea of the numbers we were dealing with, I remember a later Zone meeting where one of the subjects covered was that we had misplaced a 421. Did anyone know where it was? No one did. After a week of head scratching by all the DM's, It turned out to be at a small field where it had been taken for a CPC open house a month or so before then forgotten.

Jim's management style was what could charitably be described as 'relaxed'. He put total trust in each of his employees and pretty much left them alone until and unless it was proven that his trust had been misplaced, and this seldom happened.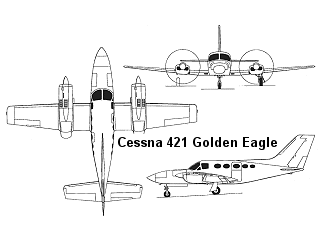 Since almost all my twin engine experience was in Pipers and I had never flown any Cessna twin, I had a lot of airplanes to get acquainted with. Jim gave me manuals on each airplane and asked me to get familiar with them. When I had done so and he had confirmed it by quizzing me on several important points, he handed me a box of keys and told me to go fly. I was rather dumbfounded, but decided to start at the top and chose the keys to a 421. I carefully preflighted the airplane, manual in hand, taxied out and took off, still with the manual on my lap.

It seems incredible looking back on it thirty odd years later, but I checked myself out in the entire line of Cessna twins. My thought at the time was that I was expected to do this without busting an airplane or my butt, so I was determined to do it that way. The last twin I self-checked out was a 340 located in Canada and I had ridden the airlines up to fetch it. The weather was abysmal and I was faced with a takeoff in zero zero conditions. Because that was the assignment I was given, it never occurred to me to refuse to leave and wait for better conditions. Cessna had designed all their twins to fly pretty much the same, with controls and gages having a standard placement. This airplane, even though it was a model new to me, was so similar to all the others I'd flown, that I remember the flight presented no real problem.

Watching Jim manage the Zone was a lesson in positive thinking having positive results. We operated as a close unit, more like a family than a corporate entity, and the whole operation ran smoothly as everyone seemed to do their best not to let him down. His confidence in the flying skills of those who worked for him seemed to be justified, since not only did I and Ernie Ayer, the other ME Specialist, never scratch the paint on a Cessna in several thousand hours of flying, I don't remember any of the single engine DM's ever having an accident.


The flying schedule for Ernie and I could be described as extremely busy, bordering on brutal. Because of the excellent saturation of the Cessna marketing system in our zone, each ME dealer had twenty or so Single Engine dealer feeding him prospects, so there were flights almost every day, five days and sometimes six days a week. Some of our days started before dawn and continued until well after dark, because many of these demos involved not just around the patch flights, but trips to distant destinations, to expose the prospect to the advantage of business travel in a business aircraft. One such day stands out in my memory and I recall putting in about eight hours of flying in just horrible weather, which included six approaches to IFR minimums. That evening I went sound asleep at the table of an upscale restaurant while eating dinner with a friend in the town where the flights ended. Fortunately I remained upright, not face down in my plate, but not so fortunately, when I awoke I found the dirty so and so had eaten my steak.

Continue to "Cessna Days"