Previous Files
After The Fall
Meeting Leroy
Escape From Plenty
Bucket Lists
David Board Letter
Remembering Orion
Flying With Dead
Recovery Squadron
Crown Royal Special
Coasting Thru Winter
Ferrying Baron - 4
Ferrying Baron - 3
Ferrying Baron - 2
Ferrying Baron - 1
Harley Davidson
David Board Letter
Flying the Cassutt - 2
Flying the Casutt
David Board Letter
Darkness - 4
Darkness - 3
Darkness - 2
Darkness
David Board Letter
David Board Letter
Working For Myself
The Abandoned Field
David Board Letter
Growing Up in WV
David Board Letter
David Board Letter
Puerto Rico - 2
Puerto Rico
The Aztec
1939 Piper J-3
Luscombe 8A,
Planning Routine Flight
Rain on the Roof
Buying the History
Most Recent
Cessna Days

March 24, 2013
Continued from February 21, 2013


The transition from running my own aviation business to being a very small cog in a very large aviation company occurred slowly but smoothly over the next few months as I learned the ropes and got familiar with my new job as a Multi Engine Demonstration pilot for Cessna. My boss Jim was great guy to work for and the two dealers assigned to me made my duties for them easy and fun. Before I came on board they had been sharing Ernie, the only ME Rep in the zone, with the other dealers in New Jersey and Maine. Now that they had their very own Cessna Rep they treated me like royalty. I had, I thought, nothing to complain about. Well, nothing if you didn't count losing my business, most of my possessions and everything I'd worked for during the last eight years.

Still, that was the past and I recognized the wonderful job that I had fallen into and I begin to enjoy living again. I moved out of The Refrigerator in Morgantown and into a modern mobile home (one that actually had a doorknob) in Greensburg, a community very close to Vee Neal Aviation, my Cessna dealer in Latrobe, Pennsylvania. I borrowed a car from my dad to use until I could get a couple of paychecks that would let me buy a (very) used car. There is life after bankruptcy after all, I was thinking.

I began to get into the routine of flying the demos and doing the trips to the zone office in Morristown and to Endicott, NY to visit Miller Aviation, the other ME dealer that I was responsible for. It was into the sun in the morning on my eastbound flights and into the sun in the evening coming home, and this became my new life.

As good as his word, my boss let me pick my 310 demonstrator from a half dozen new beauties with ferry time only on them and fitted me with a half dozen company credit cards for fuel. At this point, even though I didn't have two nickels to rub together, aeronautically at least I felt rich. I loved flying the brand new airplanes and as an ex business owner I especially loved the freedom of not having to pay for repairs if one broke, or for the gasoline that went into the tanks. I was averaging a fuel burn of over a thousand gallons a month with the flying I was doing and even at 1970's fuel prices the accounting was staggering.

I was spending quite a bit of time in Wichita too. Between the meetings that we were called to and the many schools that the company had me attend, I was averaging about one visit to the US Air Capitol each month. The usual schedule was that I would airline out to the factory and then on the return trip I would fly back a new twin that was destined for the East Coast Zone, presumably to save the cost of a ferry pilot.

Although it was a pleasure to fly the factory fresh aircraft, I soon found that regularly strapping on a newly born aircraft for a 1000 mile journey can lead to some interesting flying. Although most of the aircraft had 4 to 7 hours of test flying and the factory made every effort to insure the airplanes to be squawk free at delivery, the real test flying came in the next ten or so hours. Invariably something broke; usually several something's broke and the flights became progressively more tense as more things went awry.

Cessna, in an effort to keep the former ARC avionics factory that they had purchased at Boonton, NJ busily turning out black boxes, offered their aircraft at that time only with either Cessna avionics or no avionics at all. King and Narco were persona non grata at the factory and if you wanted other than Cessna avionics in your new airplane you had to order it 'deaf and dumb' and have your avionics of choice installed after the airplane left the plant, an inconvenience at best.

Unfortunately their avionics were Cessna's Achilles Heel during this period and their offerings were, to put it delicately, not known for their reliability. A good example of this propensity for failure was one flight I remember in a 402B and whose panel was decked out with the full suite of Cessna's latest avionics. As the flight progressed east I had boxes falling off line one after the other, until most of the panel was inoperative. At the end of the trip I was down to a working com on the number one radio, a working nav on the number two radio and a transponder without the encoder. All else had died, somewhere between Wichita and Western New York while I stared aghast at the panel, and I shot a very shaky approach at Binghamton with the paltry survivors.

Added to the unproven quality of the new aircraft during these ferry flights, was the human factor, i.e. the general dumbness that seems to affect most young men; and let me confess out loud that I was no exception. Apparently during this period of my life testosterone had bet my brain it could get it to kill me and the resulting contest led to many memorable moments in my flight log.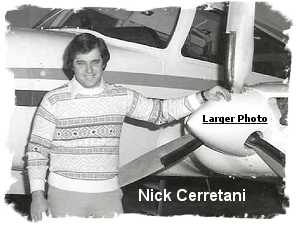 On one such occasion I was ferrying a new no radio 421 back East from a dealer meeting in Wichita. In the pilot's seat was Nick, one of the partners in Miller Aviation. Nick was younger than me, an excellent, but low time pilot that I was mentoring. As we taxied out, the plane loaded with several Miller employees, I was enjoying my role as patriarch of the flight and I asked for the sectional chart for the Wichita area. Nick confessed that he had left all the charts in the wing locker in his flight bag. He asked if I wanted him to shut the left engine down to let me retrieve it and to this day I don't have a clue why I responded that I didn't need charts but if he was nervous I would retrieve it for him.

Nick looked at me for a second, and then replied that he wasn't in the least nervous, and at that point without actually saying so, we had just dared each other to fly a no radio airplane half way across the country with no charts. And so, the two idiots departed Wichita sans charts, radios and common sense, pointed the nose northeast and settled down for a long flight. Fortunately the weather was excellent and even more fortunately the airplane had the long range tanks. The flight took about an hour and a half longer than it should have and I recall landing at Binghamton at dusk with the low level fuel lights blinking, after a circuitous flight from Wichita, while we peered anxiously down at territory not normally seen on this route.

Another odd thing about the Wichita flights was the beer delivery. At that time Coors had not expanded their distribution to the Eastern US, so every trip to Wichita by zone personal was eagerly awaited by the Coors lovers who worked for our dealers. Each time a trip was announced the unfortunate traveler was swarmed with orders for cases of the stuff. Just the fact that this weak and watery brew had to be air shipped from Kansas gave it cachet enough to insure that every flight from the factory by an East Coast Twin Cessna included at least 12 cases of Coors. It was enough to make a Munich Brewmaster weep.

During these heady days Cessna's spared no expense when it came to entertaining and spreading bonne humeur among their dealers and especially so the Multi Engine Dealers. They were after all, the folks who found homes for the big buck airplanes being produced, and the yearly new model introductions in Wichita were gala events that were looked forward to by dealers and Cessna Reps alike. The company pulled out all the stops and featured Broadway shows and rodeos and other lavish events for the dealers that showcased the new models and pumped up their excitement. This hopefully translated to additional aircraft in the Cessna order book when the dealers would make their annual commitment before leaving Wichita for their dealership.

Additionally, some years Cessna would send the top producing dealers, along with delighted Cessna Reps such as me, to exotic places such as Spain and Hawaii and other Eden's that were the settings for dreams.

For the rest of the year, as Cessna's representative in the field I was expected to do my part in winning the hearts and minds of the dealers through the proven strategy of wining and dining them. It therefore became a foregone conclusion that when the Cessna credit card and I arrived for a visit with our Cessna dealer it was party time.


This was particularly true at Miller Aviation, a company owned by young partners and peopled by young employees. Nick and his partner Jim were enthused about aviation and excited about their success at it and it seemed only reasonable to celebrate such things. My visits therefore were much anticipated by their organization and everyone looked forward to my arrival every other week or so. Inevitably, during these visits, when the day's work was finished the lot of us would repair to The Red Lion, a restaurant and watering hole a stone's throw from the Endicott Airport. There, I fear, legends of our gatherings still live in infamy.

I picked up amazing tabs for Cessna at The Red Lion and at other like places around town and I kept waiting for my boss Jim to call me on the carpet about my generosity with company funds, but he never did.

Every so often a special occasion, such as a birthday, an engagement or some other event at the dealership had a sort of supercharging effect on these happenings and things went a bit overboard. It was deep into one such occasion, the exact nature of which escapes me now, that Nick shared with me that he had a morning meeting with the labor organization in Utica that he had been attempting to sell an airplane. The unfortunate thing about this was, he explained, he needed me to fly with him in the Miller 414 because he didn't have enough hours to satisfy the insurance. It was a little late to be finding this out, but I agreed to ride right seat with him and turned back to the celebration. As I recall the evening lasted a long, long time and the amount on the Cessna credit card was even larger than usual. I got to bed very late.

I was awakened in my motel room early the next morning by Nick's pounding on my door and the mother of all hangovers's pounding on the inside of my skull. I could barely find my eyes to rub them, never mind getting dressed. Nick was pacing the room and exhorting me to get moving, lest he be late for the meeting. He looked great and I dazedly wondered if he had really been at the same party that I had attended. He began handing me articles of clothing but apparently my fingers had forgotten how buttons worked and he finally started helping me dress. An agonizing ten minutes later he toddled me out to his car and we set off for the airport.

In spite of his lack of experience I knew Nick to be a competent pilot with all the ratings necessary to fly this airplane. He had taken to flying the twins easily and handled them like a pro, so I knew it was only my body, albeit a very low functioning one that was needed on this flight, not my skill. I therefore let Nick make his way to the front of the airplane while I placed my throbbing head on the headrest of one of the leather executive seats in the rear of the cabin, reclined it back as far as it would go and immediately went back to sleep.

The sound of the gear extending woke me on the downwind at Utica. Nick did his usual good job of landing the airplane and we taxied to the FBO and shut down. I sat up long enough to wish Nick good luck in his meeting and sank mercifully back into oblivion.

A short two hours later Nick was back and preflighting the airplane for departure. The weather for the flight up had been excellent and when Nick suggested that we get fuel I checked the fuel gages and noted that we had enough to land back in Endicott with at least an hour's reserve. I just wanted to get back and assured him the fuel would be fine. We departed into blue skies with me still draped over the seat in the back. A short time later an announcement from Captain Nick informed me that the clouds were rolling in and he needed to file IFR. I responded that he should then file, but try to do it as quietly as he could. More time passed and another cabin announcement informed my hangover and I that we were now solid instruments and our ground speed had dropped from 170 to 130 knots and that I should come forward lest we crash. I assured him he could fly the airplane as well with me in the back as in the front and he should continue doing the excellent job that he was doing; and besides if we crashed I would feel better. However at this point I couldn't help but notice that our Captain had exited the airplane and in his place sat a very young pilot clinging to six thousand pounds of runaway airplane.

I reluctantly made my way forward, took the right seat and started accessing our situation. Things were not good. We were too far along to return to Utica and the weather had gone to pot everywhere. Binghamton had gone below minimums and out best bet was to shoot the VOR approach at Endicott, which lay in the valley below the main airport. Fuel was by now very low and we had enough for maybe two shots at Tri Cities Airport and then we would be in real trouble. My head cleared magically as I realized the seriousness of our situation and we settled down to solving our predicament as a team. My role would be to monitor Nick's flying of the approach and to watch for the runway. In spite of his trepidation, he was still doing a masterful job of handling the airplane and we progressed along the approach exactly as we should have.


Arriving at the point where we should see airport, we had broken out of the overcast, but there were only clouds below. Suddenly, over the nose of the airplane I saw the very end of the opposite runway, sticking out from the undercast. With the airplane configured for landing we did a sort of circling pounce on the visible end of the runway, touched down then rolled into a bank of hanging clouds and fog. Nick braked to a stop and then we slowly made our way through the murk to the hangar, where we were noted by startled Miller employees as an apparition appearing in the gloom.

Continue to "More Cessna Days"