Previous Files
October 20, 2012
August 24, 2012
June 21, 2012
May 22, 2012
January 26, 2012
May 18, 2011
February 3, 2011
December 14, 2009
December 13, 2009
December 12, 2009
December 10, 2009
July 24, 2009
June 19, 2009
July 14, 2008
November 19, 2007
September 25, 2007
August 27, 2007
August 9, 2007
July 24, 2007
May 28, 2007
May 2, 2007
March 1, 2007
January 10, 2007
October 8, 2006
June 26, 2006
May 23, 2006
April 25, 2006
December 6, 2005
October 14, 2005
July 22, 2005
May 10, 2005
April 20, 2005
March 29, 2005
March 16, 2005
March 11, 2005
Most Recent
Bucket Lists and Bob Hoover

October 20, 2012

It seems to me as I get older I find myself spending more and more time thinking about the things that I've wanted to do all my life and haven't gotten around to doing yet. My 'Bucket List', to use the popular vernacular, has been on my mind for the past several years, and I've been thinking that I'd better get busy on some accomplishments if I want to get them done.

I'm reminded of the seventy something retired airline captain who bought a Baron from me years ago. "I've always wanted a Baron" he said, "and one morning I woke up and thought, If not now, when?" Really a good question, I thought at the time and it's an even better question for me now. I recently thought of that when I bought a Harley Springer that looks very much like the one I had at 18.

Life is funnel shaped, and as you get closer to the bottom it hits you at some point that you really do have only a finite time to accomplish the things that you've set for yourself. Young and at the top we can't even see the other side of the funnel, so of course we somehow think there is no end to all this time and that forever should be plenty of time to do everything.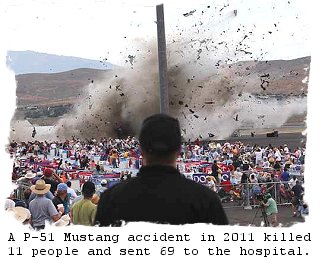 I have to say that I've been blessed with a life that has given me lots of opportunities to check off many things that I wanted to do and I'm in the enviable position of nearing the bottom of the list as I get closer to the bottom of the funnel. Many of my wanna do's were ordinary things that you'd expect to see on the life list of any red-blooded American man/boy. I've done the parachute jump and the backpacking in Europe and I've run the marathons. But I've also checked off such odd things as driving a coal train and firing a bazooka and even being a hobo for a day and catching a 100 mile boxcar ride on a freight train.

Last year I learned to paraglide and for about 15 minutes of one flight, I shared a thermal with an eagle while doing it. This year I went zip lining and found it to be every bit as much fun as I thought it would be.

Reno however had eluded me. Watching the unlimited's run has been something that I had wanted to do since I first heard the moan of a Merlin powered P51 on takeoff at the Reading Air Show in 1966 and watched as someone who flew like an angel put it through its paces.

Maybe it was the distance or perhaps because the race was held in a busy time of the year for me, but I just hadn't gotten myself out there for the race. After the tragic accident last year and the doubts that surfaced that the race would continue, I thought I'd missed it forever. When it was announced that the race would go on this year I decided that being there would be a priority.

My son Denny, an engineer in Texas by profession and with no background in aviation, met me in Reno Thursday of last week and on Friday and Saturday we basked in the sights and the sounds that are the Reno Air Races. The Merlins howled and the Pratt and Whitneys roared and I got a bad case of goose bumps, watching the Mustangs and the Bearcats and the Sea Furys go by at almost 500 miles an hour. It was as I had imagined, but bigger and better organized than I thought it would be. The weather was perfect with the temperature hitting 90 each day, but with the low humidity and a breeze making it comfortable.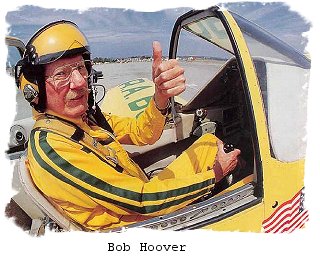 A real surprise for me was the Sport category, which ran the Lancairs, the Thunder Mustangs and others of that size and class. I apparently haven't been paying attention for the past few years, because I had no idea that they were getting the kind speed that I saw from these airplanes, the fastest turning in times that rivaled the big unlimiteds.

Aerobatic acts inserted between the heats kept the crowd entertained and the F-22 and the F-18 strutted their remarkable stuff and hammered on the little that's left of my hearing. The list of guests showcased at the show read like a Who's Who of aviation, but a personal high for me was seeing the great Bob Hoover one more time as he was driven down the crowd line in a golf cart.


Bob is 90 now, bent and frail, but still wearing his straw hat and still with the look of the fighter pilot in his eye. I shook his hand as he passed and told him I loved him, one of the few times in my life I've said that to a member of the same sex that wasn't a close blood relative.

It was Bob Hoover You see, flying the P-51 at the Reading Show in 1966. He was half the age he is now and at the top of his game, and I was a just another kid, standing in line to ask him the same dumb questions he had answered a thousand times at a hundred shows before.

I had come to the show to see him and the Mustang because both he and the Mustang had been icons to me for a long time. I had read about him and I knew about his combat records, his mastery of the Mustang and his successful post war career in aviation and I knew that it was said by people who knew, that he had a touch like no other on the control stick. Now I stood before him feeling dumb and of no consequence and I knew he had the power to wither my passion for the air by telling me to get lost. But I had come this far and I needed to meet him and to lay my heart on the tarmac at his feet and ask him my silly questions, and so I did.


When it was my turn to talk with him, Bob shook my hand and looked me in the eye and answered my questions as if we were peers. He spoke to me, not down as I feared, but as if I was perhaps flying a Bearcat in the same show and we were just two airshow performers swapping specs on our airplanes.

I never forgot that kindness and from what I know in following his career down through the years since, I believe it's just the way Bob has lived his life. He is a gentleman, and though modern life has watered down the meaning of the word, Bob Hoover is without question a hero, in the true, original meaning of the word.