Previous Files
December 10, 2009
July 24, 2009
June 19, 2009
July 14, 2008
November 19, 2007
September 25, 2007
August 27, 2007
August 9, 2007
July 24, 2007
May 28, 2007
May 2, 2007
March 1, 2007
January 10, 2007
October 8, 2006
June 26, 2006
May 23, 2006
April 25, 2006
December 6, 2005
October 14, 2005
July 22, 2005
May 10, 2005
April 20, 2005
March 29, 2005
March 16, 2005
March 11, 2005
Most Recent
Ferrying a Beech Baron to Brazil

December 12, 2009
Continued from Part One


From San Juan to the island of St. Lucia is a relatively short flight of three hours or so. I am late getting off at Isla Grande, due in no small part I'll admit, to my presence at a Christmas party in Old San Juan. There, the hospitality flowed freely, all of the woman in attendance seemed to be named Maria, and I stayed much too late to be flying the next morning.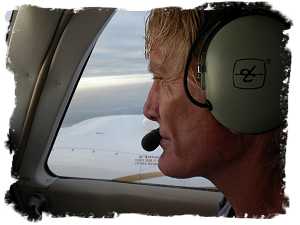 The weather on this leg was perfect, though I filed IFR in order to be more securely in the system. After a routine flight I arrived at the island in the mid to late afternoon and taxied to the spot designated by the tower, after informing them that I needed to see customs. Since it's usual to remain in the airplane until customs arrives and bids you step down, I did so for about ten minutes, but no official showed. I turned on the electrical system and called the tower and was told I should walk around the building and enter at the doorway there, for customs was inside. I again shut down and followed their instructions. The door was locked.

For the next 15 minutes I knocked on the door until a guard appeared around the corner of the building and asked what I wanted. I explained my quest for customs and he explained that he didn't have a key or a clue how I could get inside. Finally someone else came and they knew someone with a key and a call was made. After another quarter hour the door was opened and I was shown inside. I asked about customs and was told that the lady had been sent for and I should make myself comfortable, a comment I thought strange since there were no chairs. Forty five minutes passed while I paced to and fro and finally sat down on the floor. At last a lady in an official appearing uniform strolled up and motioned for me to follow her. We reined up in front of a door labeled 'Immigration'. It was locked.

A key was mentioned, but its whereabouts remained a mystery. A search was mounted. A very slow moving search, but search nonetheless. Forty Five more minutes passed, then a guard appeared triumphantly waving the fugitive key and I was ushered inside.

My papers were scrutinized and I was asked for my manifest. I explained that I had filed it on line but this was met with a disapproving frown from the official, best summed up with; "Online? You can't stamp no stinking document online".

Off to the airline office I was sent to make out a decent manifest. A paper manifest, which could be laid flat and stamped thoroughly.

Baggage in tow I trudged the 30 yards or so to the airline office. The door was locked. My steady pounding was rewarded with a cracked door through which I explained my dilemma. I needed a manifest, could they make me one? I was courteously shown in and with much arm waving and repetition I conveyed my needs and the document was dutifully created. In triplicate of course; one for customs, one for the tower and one I believe, for I the little boy who lived down the lane. Thirty minutes later I was trudging back to customs, towing my baggage and clutching my manifests. The door was locked. More pounding. Ten minutes of this the door opened and the lady from customs appeared, took my documents and indicated that I follow her back to her office. Once there she scrutinized the manifests, then with barely disguised enthusiasm she drew her stamp and thumped them soundly.

Now I was free to visit the tower. There I would give them their copy of the manifest, file my flight plan and order gas. Baggage in tow once more I rumbled across the rough ramp to the building that had been pointed out to me. The door was locked.


This time a few minutes pounding did the trick. This was good because my knuckles were getting sore. I handed the manifest to the tower chief and filed the flight plan and then asked about fuel. Did I want Jet A, he asked? No, I need 100 low lead, I replied. Sorry, he said, we only have jet fuel.

My thoughts at this moment are censored, but suffice to say they were liberally laced with the feeling of futility. I'd just spent three and a half hours finding out I should have stopped somewhere else and now it's too late to go there.

Well, I would just stay the night start fresh and go on to Trinidad in the morning. That island was about three hours more away, but I should be able to make it with adequate reserves.

Continue to Part Three